Winona Building Products
Insulation Vapor Retarders, Surface Protection, Sustainable Packaging & Laminate Solutions
Winona Building Products
Insulation Vapor Retarders, sustainable packaging & Laminate Solutions
We manufacture UL and ULC Classified insulation vapor retarders and provide lamination solutions for applications within the automotive, aerospace, metal building and construction industries.
From our new centrally located state of the art facility, we engineer products that exceed performance specifications while being environmentally friendly.
About Winona Building Products
Winona Building Products has been established to meet the demand for US manufactured UL Classified insulation vapor retarders, facings, surface protection, and sustainable packaging solutions.
Winona Building Products was founded by the owners of E&H Products, Inc., established in 1983, an insulation facing distributor in Palm Beach Gardens, Florida and the owner of Winona Powder Coating, established in 1979, a high-volume powder coater in Etna Green, Indiana.
Winona's insulation facings, surface protection paper, and sustainable packaging paper are designed with patent-pending flame retardant adhesive chemistry without the use of any Red List chemicals, according to the International Living Future Institute, and also meets stringent fire codes. Winona's insulation facings are manufactured on a state of the art 105 inches wide laminator with in-line scrim capability.
Located in a 300,000 sq/ft facility on a 19-acre site in Plymouth, Indiana. Its Midwestern location enables fast and cost effective transportation to the entire US and Canada, reaching 70% of the US within one day's transit.
83M
sq/ft of capacity per month
105"
State of the Art In-line Scrim Laminator
0
Red List chemicals in Flame Retardant Adhesive
FACILITIES
Delivering your product fast is our priority.
Winona Building Products operates from its new 19 acres, 300,000 sq/ft plant located in Plymouth, IN with the ability to reach 70% of US population within 1 day trucking, and we are 4 hours to nearest Canadian crossing.
We also have an active rail spur supporting 7 rail cars under roof.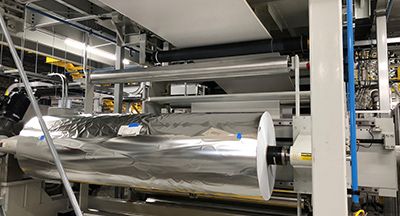 105" (2667 mm) Lamination Line
109 inch 2769 mm roll face laminating machine with a 105 inch 2667 mm working face, set up for wet bond application, and equipped with dual unwinds each with flying splice capability to ensure continuous operation, and a completed wound roll diameter of up to 48 inches.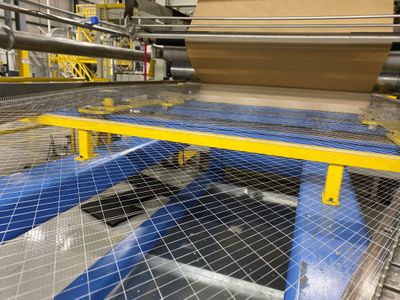 Continuous scrim
The machine is also equipped with a reinforced scrim weaving capability. Machine Direction and diagonal patterns are achievable with a variable angle capability. Winona is currently set up for fiberglass and polyester yarn combinations.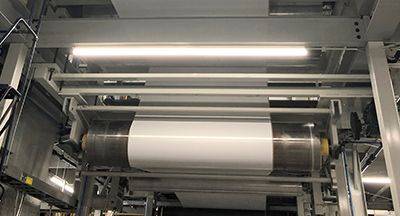 Patent Pending Red List Free Adhesive Technology
Our proprietary adhesive technology provides the necessary flame retardant properties while meeting stringent fire codes, the adhesive is Red List free and California Prop 65 compliant, and is ASTM E84 and UL 723 certified.
Inquiries
For any questions, custom development projects, or product sales, please call: 574-822-0100 or fill out the following form
Head Office
Winona Building Products, LLC
506 North St
Plymouth, IN 46563
United States
Email: info@WinonaBP.com
Call: (574) 822-0100
Fax: (574) 822-1144
Employment
To apply for a position with Winona Building Products, please send a cover letter together with your Resume to: info@WinonaBP.com
Get a quote
574-822-0100