Eco-Friendly Metal Building Insulation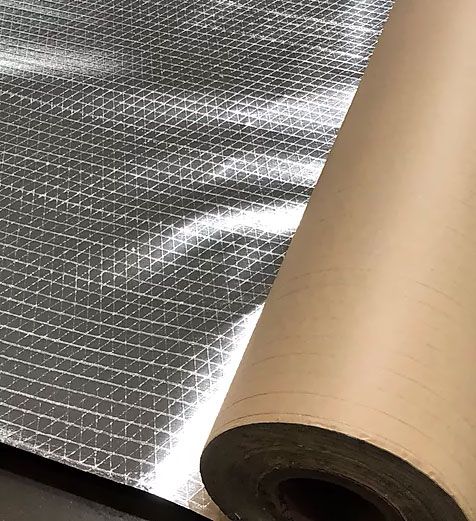 Winona Building Products offers a number of options for metal building insulation, which come with a variety of benefits. Our insulation:
Functions as a vapor barrier/retarder (i.e., prevents moisture condensation and its negative effects)

Helps regulate building temperature

Gives your building a nice, clean finish

Improves building fireproofing

Will help reduce your energy costs

And more!

If you are looking for metal building insulation that is both affordable and high-quality, check out our products page or contact us now to place your order!
Types of Metal Building Insulation Facings We Offer
We offer two primary types of products PSK and FSK — PSK stands for Polypropylene-Scrim-Kraft and FSK stands for Foil-Scrim-Kraft. Both of these metal building insulation options are easy to install and will most likely significantly reduce your energy costs. The initial investment in PSK or FSK (more on what makes them different soon) will be regained quickly due to the energy-efficiency improvements of your building. What is more, all of our insulation facings are made with eco-friendly adhesives, meaning that you'll have the added satisfaction that your choice is not negatively impacting the environment, like some other types of insulation for metal building products can. From large scale commercial and industrial metal buildings to garages, barns, warehouses, and sheds, our steel building insulation solutions are a no-brainer, especially from a financial and environmental perspective.
The two main types of insulation facings we offer are PSK and FSK.
Let's break down what the differences between these two are:
FSK — Foil-Scrim-Kraft. This type of insulation is useful for wrapping things like duct boards and duct wraps during their initial manufacturing. It functions as an effective vapor barrier, protecting your insulation and preventing moisture from negatively impacting it. FSK uses aluminum foil film, to protect many products in a wide variety of industries. It is a very important step for any company or manufacturer looking to increase the quality of their HVAC, construction, or other types of industrial products.

PSK — Polypropylene-Scrim-Kraft. Rather than the foil outer layer, PSK uses a plastic blend of polypropylene to cover the scrim and kraft. This form of insulation facing is common with ductwork and, most importantly for today's guide, is well-suited for metal building interior insulation.
PSK in Detail
PSK facings have a clean, white-colored finish that makes them look nice for exposed systems in particular, where aesthetics are a factor. PSK can be attached directly to vats of fiberglass insulation from major manufacturers, or it can simply be directly stapled to exposed wall joists.
The low porosity of polypropylene contributes to one of the main benefits of using PSK, which is that it regulates how moisture enters or exits the structure of a metal building. This can have massive impacts on more than just the longevity of your insulation, but can also lead to significant savings on energy costs for temperature control. Using PSK is a great choice if you want to prevent mold growth and corrosion on your walls and ceilings as well. If you're ready to start reaping the benefits of insulation facings like PSK, reach out to Winona Building Products, LLC today if you have any questions or would like to place an order.
The Benefits of Vapor Retarders in Steel Buildings
Lots of people don't actually know if they need to insulate their steel buildings, let alone if they need to include vapor barriers. Indeed, not all buildings actually need it. The things to consider when determining your metal building insulation needs are: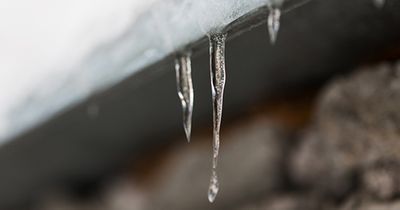 Climate
If you are in a region where it gets extremely hot, cold, or humid, you may want to upgrade your insulation.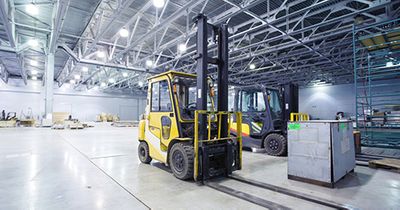 Building Use
A barn for storing hay may not need to be insulated, while an enclosed commercial metal building will most likely require it.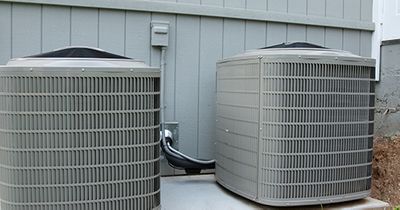 HVAC Use
If your building is going to be using heating and cooling systems, it's going to have a greater need for energy-efficient insulation.
Vapor barriers, or more accurately, vapor retarders, help reduce the amount of water vapor that enters through your walls and ceilings. The process of vapor passing through your building's walls is technically called "vapor diffusion". The main benefit of vapor barriers for steel buildings is that it helps moisture slowly and harmlessly evaporate, instead of condensing in your walls and causing problems like:
Mold and mildew

Reduced indoor air quality

Rust and corrosion

Reduced resale value

Water dripping from the ceiling

Uncomfortable humidity levels

Reduced thermal performance of your insulation
If it sounds like you could use metal building insulation, reach out to us today to get a free quote!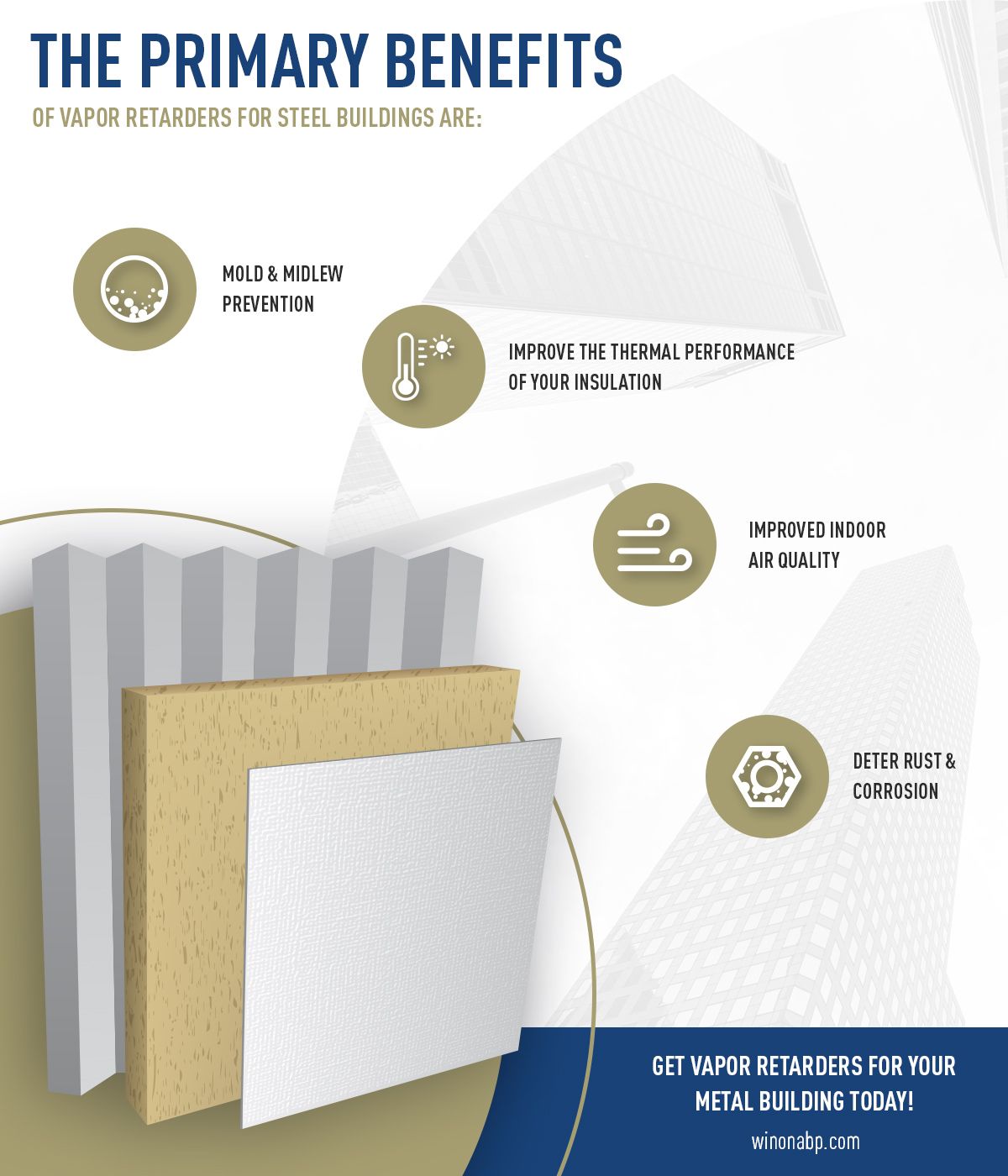 What Makes Our Metal Building Insulation Different?
There are a number of types of metal building insulation materials available for you out there. What makes ours unique are:
Our Vapor Barriers Are Eco-Friendly
One of the biggest things that make Winona Building Products unique is that our adhesive formula is not only fire-retardant and bonds strongly, but it does so without the usual use of chemicals considered by the International Living Future Institute to be dangerous to humans and the environment.
Winona's insulation facings are designed with patent-pending flame retardant adhesive chemistry without the use of any Red List chemicals, according to the International Living Future Institute, and also meets stringent fire codes.
We believe that eco-friendly vapor barriers are the future. If you would like to learn more about what makes our insulation facing options environmentally-friendly, contact us online or give us a call today. Want to order PSK or FSK vapor barriers today? Our customer service experts are waiting for your call!
Our Insulation Facings Always Use Three Effective Layers
We use both scrim and kraft is kraft paper that provides a surface to which the scrim and either polypropylene or foil are bonded and laminated, providing the ideal permeability characteristics for a vapor barrier. Scrim is a type of heavy duty lining — typically made of polyester or glass fibers or a combination of both arranged in a choice of various patterns, that significantly reinforces the finished insulation facing — and kraft is kraft paper that provides a surface to which the scrim and either polypropylene or foil are bonded and laminated, providing the ideal permeability characteristics for a vapor barrier. The final touch comes in with our special adhesive formula, connecting up all three layers. So, the basic process is as follows:
We make a woven scrim

Apply our patent-pending adhesive to kraft paper

The third layer (composed or aluminum foil or polypropylene film) are laminated together using extremely high pressure of ~13K psi
This process guarantees that you get high-quality, product-enhancing insulation facings that will last for years to come. Our adhesive is eco-friendly, has high bonding capabilities, and is safe for use in both residential, commercial, and industrial settings.
Our Insulation Facings Are Both Beautiful & Useful
Our white PSK insulation is more than just great thermal insulation for your metal building walls and ceilings — it also has a great aesthetic and looks very clean. PSK is lightweight, resilient, and free of formaldehyde resin.
Winona's insulation facings are manufactured on a state-of-the-art in-line scrim laminator that produces laminates up to 105 inches wide.
If you are looking for a beautiful, effective way of keeping your metal building cooler in the summer and warmer in the winter, using insulation facings from Winona Building Products is a great choice for you. Call us now for your free quote!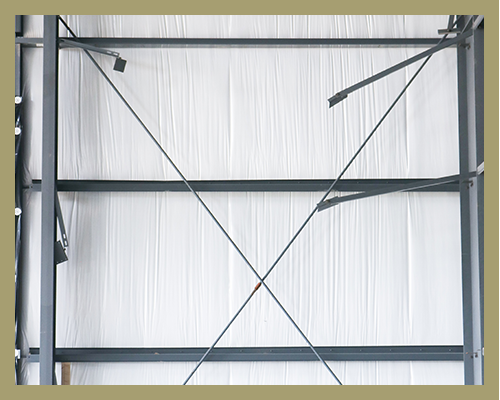 Understanding Vapor Barriers
Vapor barriers generally function as both air barrier and vapor retarders. The term "vapor retarder" is more accurate than vapor barrier, as generally most vapor barriers still allow for some degree of vapor permeation. Depending on the environment you are in, different levels of vapor permeance are desirable.
Another little-known fact about vapor retarders is that they also act as air barriers. This is important, as many of the benefits, like temperature regulation, come from the ability to reduce leaks in your metal building's insulation. However, the prime function of vapor retarders remains to prevent moisture from dripping onto machinery or other products during periods of high humidity or during rain. The most suitable vapor retarder for a commercial building with significant office space may be different from a metal building for agricultural purposes. That's why we encourage you to always reach out to our team so we can help select the best option for your individual application.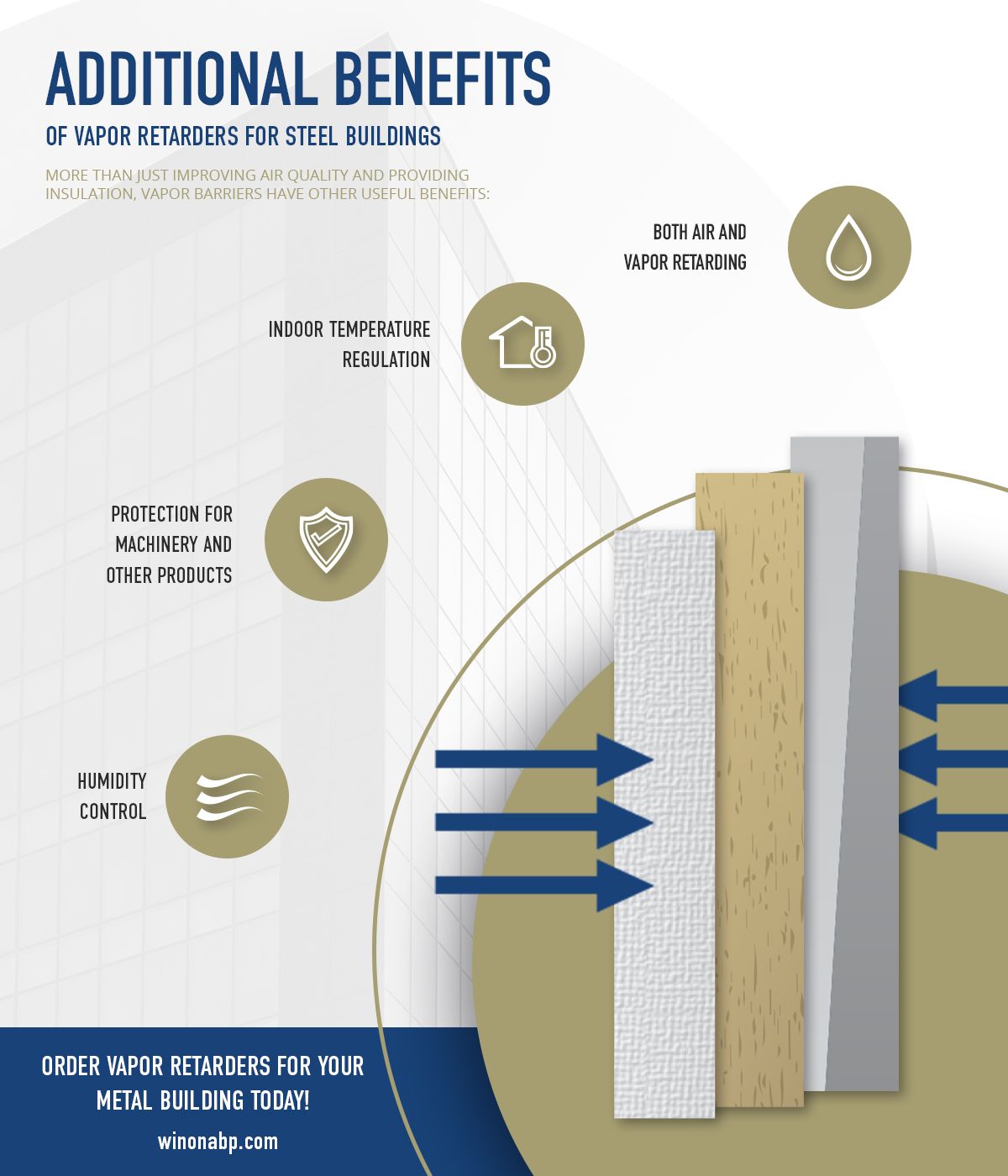 A Brief History of Vapor Barriers
Vapor barriers for metal buildings from the 60s to the 80s were primarily made out of vinyl. The perm rating during this period was nowhere close to how good it is today, and they served more as an air barrier than a vapor retarder. It wasn't until the implementation of kraft- and foil-faced products that we began to see the highly optimized metal building facing lamination that's popular today.
Early advancements in vapor barriers were primarily in making it easier to install or creating grooves that helped channel the moisture downwards. However, today, we sell vapor barriers that are also designed to be breathable, overcoming some of the limitations of earlier forms — like how they could trap moisture inside a building and lead to uncomfortably high levels of humidity or cause mold and mildew growth.
Winona Building Products, founded in 2016, has continued to grow with the times. We currently offer a variety of highly customizable, affordable vapor barriers for wherever you are located and whatever type of metal building you need them installed in.
Located in a 300,000 sq/ft facility on a 19-acre site in Plymouth, Indiana, our Midwestern location enables fast and cost-effective transportation to the entire US and Canada, reaching 70% of the US within one day's transit.
Our multi-layer vapor barriers provide your walls a series of laminate layers to maximize the benefits for your unique situation. Ensure that your vapor barriers are of the highest quality buy getting them from a team that has been in the industry for decades. Call Winona Building Products today to find out more about what we can do for you in regards to your vapor barrier needs!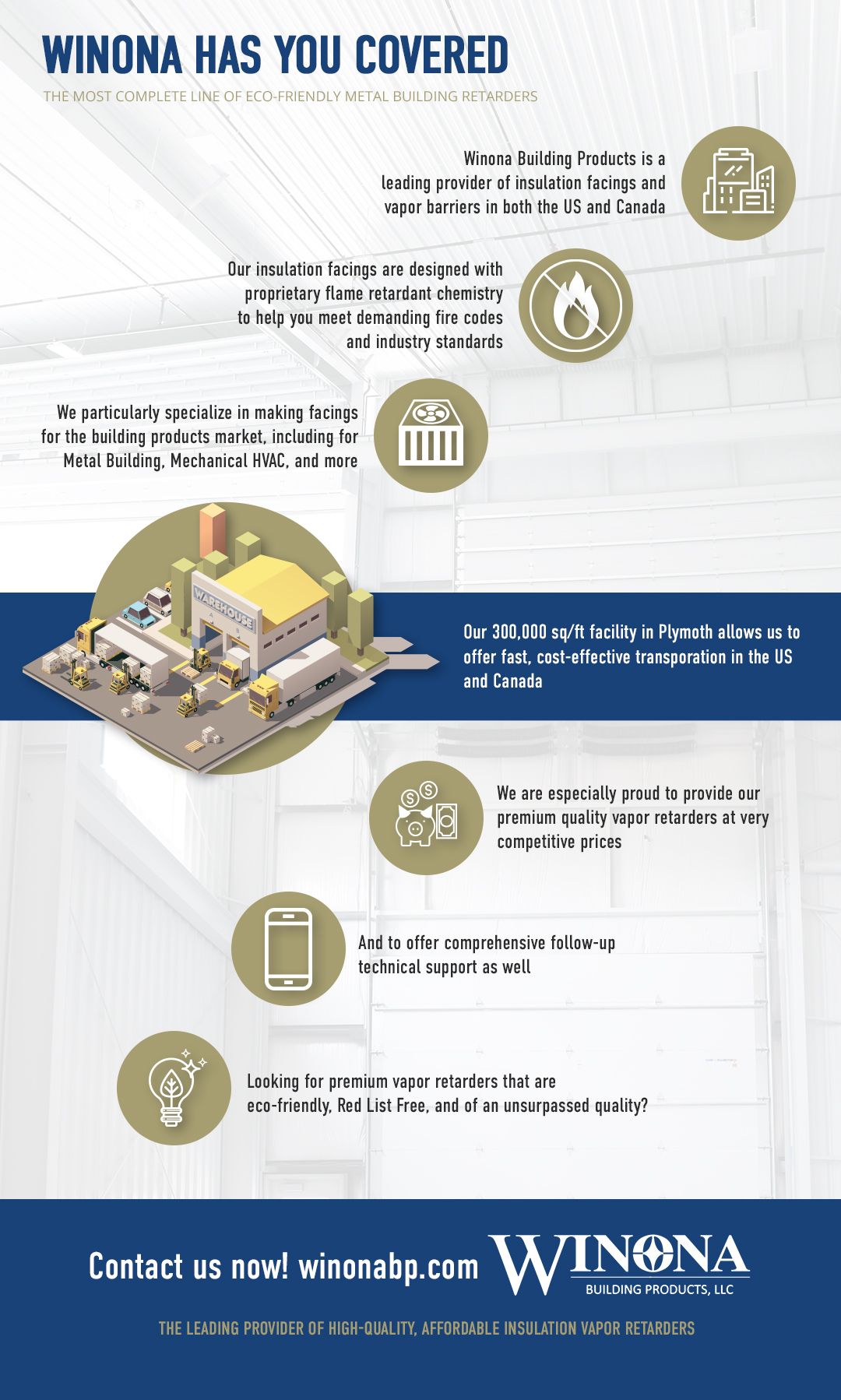 Call (833) 495-0578 or fill out the form below to get a quote!